CRITICAL ISSUES
The Senate and Assembly have rejected Governor Cuomo's proposal in the state budget to impose a new tax on health insurance – which is a positive first step. Lawmakers recognized this new tax — on top of $5 billion in health care taxes employers already pay — would mean higher health care costs further hurting small businesses and their workers, as well as less resources to invest in their companies, hire more workers and improve the state's economy.
The fight is not over yet, and we need your help!
We have to make sure legislators stay strong in final negotiations, and continue to reject this misguided tax. With New York as the second costliest state for employer-sponsored coverage, small businesses are already struggling to provide coverage to their employees, we need to tell Legislators, we can't afford higher health care costs!.
Click and act now, Tell your lawmaker to keep fighting to "Ax the Tax" and keep it out of the final state budget.
--------------------------------------------------------------------------------------------------------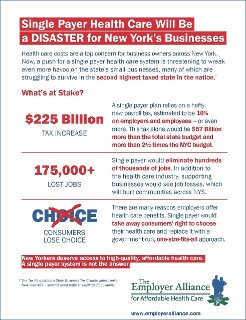 A single-payer system is NOT the answer
New York can't afford a single-payer healthcare system, but that does not stop lawmakers from presenting the notion time and time again. Single-payer healthcare is phenomenally expensive.
Vermont rejected single-payer healthcare after financial projections were released showing that program costs, in the first year alone, would nearly double the size of the state's budget and require large tax increases for residents and businesses. California's projection of its single payer system would have also doubled the state budget at an estimated $400 billion.
Even conservative estimates supplied to the New York State Assembly acknowledge that creating a single-payer plan in New York would require a tax increase of $92 billion, although other studies place the cost at $225 billion!
One can only question why one of the most heavily taxed states in the nation would consider such a dramatic burden.