CRITICAL ISSUES
UPDATE:
Thank you! You spoke and lawmakers heard you!
The final budget approved by the Senate and Assembly rejected Governor Cuomo's proposal to impose a new tax on health insurance. Lawmakers recognized this new tax - on top of $5 billion in health care taxes employers already pay - would mean higher health care costs further hurting small businesses and their workers, as well as fewer resources to invest in their companies, hire more workers and improve the state's economy.
Your efforts to get this message to lawmakers was instrumental in the final outcome, proving again that small businesses can have a big impact.
--------------------------------------------------------------------------------------------------------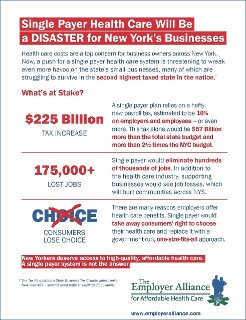 A single-payer system is NOT the answer
New York can't afford a single-payer healthcare system, but that does not stop lawmakers from presenting the notion time and time again. Single-payer healthcare is phenomenally expensive.
Vermont rejected single-payer healthcare after financial projections were released showing that program costs, in the first year alone, would nearly double the size of the state's budget and require large tax increases for residents and businesses. California's projection of its single payer system would have also doubled the state budget at an estimated $400 billion.
Even conservative estimates supplied to the New York State Assembly acknowledge that creating a single-payer plan in New York would require a tax increase of $92 billion, although other studies place the cost at $225 billion!
One can only question why one of the most heavily taxed states in the nation would consider such a dramatic burden.